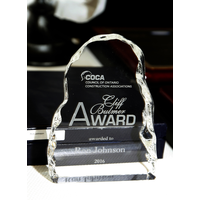 On Thursday, February 22nd, the Council of Ontario Constructions Associations held it's Annual General Meeting, Member's Luncheon and Awards Presentation at Wodbine Racetrack.
2017 Award Recipients.
Anniversary Recognitions
London & District Construction Association is celebration, 120 years,

The Windsor Construction Association, 110 years,

The Electrical Contractors Association, 70 years

The Northeastern Ontario Construction Association, 70 years

The Sarnia Construction Association, 70 years

The Utility Contractors Association, 50 years
Board Service Recognitions
Jim DiNovo,

John Mollenhauer,

Martha George,

Jim Lyons

Don Gosen
President's Award
Adam Pinder of the Sault Ste. Marie Construction Association

Margaret Taylor of the Ontario Association of Demolition Contractors
Chair's Award
Dan Lancia,

Sandra Skivsky

Glenn Ackerley
Industry Ally Award
Jim Lafontaine who served as the truly outstanding Management Co-Chair of the Provincial Labour Management Health and Safety Committee for more than twenty years.

J.S. Bidal who in his roles as Executive Director Strategic Revenue Policy and Executive Director of the Funding Modernization Office at the WSIB was an invaluable resource to COCA regarding the WSIB's Rate Framework Modernization.
Hard Hat Awards
Last year we introduced a special new award, The COCA Construction Hard Hat Special Achievement Award. It's awarded to an individual or individuals who do something truly remarkable to advance the interests of the construction industry. The awards are works of art in the form of personalized construction hard hats created by reputed Canadian artist David Arrigo. David is perhaps best known for the masks he has customized and decorated for numerous NHL goalies.
The Honourable General Yasir Naqvi, Attorney General of Ontario. COCA has been lobbying for Construction Lien Act reform for 25 Years and for Prompt Payment Legislation since 2011. Over that period, there have been many Attorneys General. Only Minister Naqvi got it done, and in so doing he started a prompt payment movement across Canada. This award recognizes Minister Naqvi's tremendous leadership on a file that's so important to the construction industry.

The Honourable David Levac, the Speaker of the Ontario Legislature. Speaker Levac has been a long-time friend, advisor and supporter of COCA since his days as a back-bench member when introduced the very first prompt payment Private Members Bill, Bill 211 on June 1, 2011.

Don Gosen. Don Gosen provided outstanding leadership to COCA as Chair from 2012 to 2105. Prior to that he served as Chair of the GVCA and as Chair of the Ontario Electrical League. Today he provides that same steadfast leadership to the Ontario College of Trades. This award recognizes Don's long service to COCA and the industry.

Gary van Bolderen. Gary has just completed his term as COCA's chair. During his term, Gary has been a dedicated and passionate advocate for not only COCA but the construction industry in general. Gary has been a difference maker for COCA.
The Bulmer Award
The Cliff Bulmer Award is presented to an individual who has made an outstanding contribution in furthering the relationship between the construction industry and the Ontario Government. It is COCA's very highest honour.
The Bulmer Award goes to Ted Dreyer. Ted has chaired COCA's Construction Lien Act Committee for several years and spearheaded COCA's advocacy that led to Bill 142 and the new Ontario Construction Act. Ted is a two time winner of the Bulmer Award.
---