MANDATE
The Committee will conduct research, study legislation and policy, consult with the membership and others and conduct other activities that it determines necessary in order to provide advice and to recommend positions on the full range of WSIB issues, including but not limited to the sustainability of Ontario's WSIB system, the unfunded liability, experience rating, accreditation, return to work, re-employment, the new service delivery model, worker benefits and premium rates.
CHAIRS
Craig Moore, Chair
Ron Johnson, Vice Chair
REPORT ON 2015 ACTIVITIES
WSIB Reform
WSIB Rate Framework Modernization
Building on the foundational work of Professor Harry Arthurs and Douglas Stanley, on March 31st the WSIB published a set of detailed technical proposals for reform of its employer classification system, rate setting process and the experience rating programs.   Members of COCA's WSIB-OH&S Committee met many times as a group, as members of other groups and individually with officials from the WSIB to discuss these proposals before developing its comprehensive written submission.  In that submission the Committee:
Supported the change from a classification system based on SIC codes to one based on NAICS
Recommended  further study of the risk disparity in the proposed classes  before the framework if finalized to see if more classes are required
Recommended the WSIB analyse several years of individual employers' payroll data in order to accurately determine their predominant business activity
Recommended that there should be a graduated per claim limit to protect small employers
Recommended that LLOD claim costs should be excluded from an employer's experience and should be accounted for at the Class level
Recommended that the WSIB consider shortening the experience window for experience rating to four years
Recommended that all classes should stand on their own and be accountable for the costs bring to the system
Recommended that a mechanism should be implemented to surcharge employers that consistently display poor health and safety performance, bring unacceptably high costs to the system and who are unwilling to improve
Recommended that the fairest approach in assessing the cost of a fatal claim against an employer is to use the average cost of all fatalities. 
On December 1st the WSIB presented an updated version of its proposals to stakeholders which, in general, were aligned with our recommendations including the addition of several new classes.   
2016 Premium Rates
COCA has long advocated for more competitive premium rates for Ontario's construction employers who are paying far too much for workplace insurance because the WSIB's legacy debt and the debt retirement surcharge.On August 27th the WSIB announced that for the third consecutive year employer premium rates will remain unchanged for 2016.This was made possible as the result of the WSIB's strong operating results and significantly improved return-to-work experience.
Fall Economic Statement
Highlights of the WSIB's November 9th Fall Economic Statement included the following:
The WSIB may reach the legislated target of 100% funding five to six years ahead of schedule, in 2021 or 2022
Reductions to employer premiums could be phased in beginning as early as 2017 to provide much needed assistance to Ontario's employers
Once 100% funding is reached and a prudent margin of safety is maintained, employer premiums can be reduced to a level that is well below the Canadian average and more than $2 billion can be returned annually to Ontario's economy
Our provincial compensation agency, with support and advice from our Committee, continues on the path to sustainability. 
Improving Ontario's Workplace Health and Safety System
Construction Action Plan
Work on the construction sector's health and safety action plan, delegated by Premier Wynne in her mandate letter to her Minister of Labour, continued in 2015.The Ministry appointed an advisory panel to assist in the dynamic action plan's development and facilitated consultations were held across the province at which many Committee members participated.
Working at Heights
The new WAH standards, on which the Committee had provided input, came into force on April 1st.By the end of the year, more than 60 training providers had been approved to deliver training based on the program standard and 45,000 workers had completed the training.
JHSC Certification
The new Joint Health and Safety Committee certification standards, on which Committee members had provided input, were finally approved and come into effect on March 1, 2016.
Mandatory Entry Level Training for Construction
Committee members continue to provide advice to the Ministry of Labour in regard to the development of mandatory entry level training.  The program, when introduced, will be a one day course that will make workers aware of the various hazards of the construction industry and point them to more advanced high hazard training programs such as WAH. 
Committee Members
A debt of gratitude is owed to the dedicated and hard-working members of the WSIB-OH&S Committee.  They are:
Craig Moore, Chair – Association of Demolition Contractors of Ontario
Ron Johnson,  Vice Chair – Interior Systems Contractors Association
Fred Black – Electrical Contractors Association of Ontario
Michael Dale - Robert B. Somerville Co Limited, Pipeline Contractors Association of Canada
Ellaline Davies - Safety Works Consulting Inc.
David Gardner – Pinchin Ltd.
Paul Gunning – Acoustical Association of Ontario
Jonathan Kirk - Harris Omer Rebar
Andrew Sefton – Ontario Painting Contractors Association
Mark Senicar – SE-GA Workplace Consulting
Denis Shank – Northeastern Ontario Construction AssociationMichael Zacks – Office of the Employer Adviser
Michael Zacks – Office of the Employer Adviser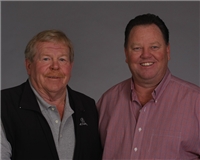 COCA WSIB/OH&S Committee Chair Craig Moore and Vice-Chair Ron Johnson